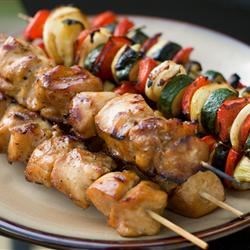 Ingredients:
1 lb. boneless skinless chicken breasts
2-3 zucchini or yellow squash, cut into 1-inch slices
1 lb. fresh mushrooms
1 lb. cherry tomatoes
1 cup red, yellow and green bell pepper pieces
2 large green onions, cut into 1-inch pieces
2 tablespoons reduced-sodium soy sauce
2 tablespoons dry sherry
1 tablespoon honey
1 tablespoon dark sesame oil
3 cloves garlic, minced
Directions:
Cut chicken into bit size pieces (approx. 1 1/2 inches), then place into a large plastic bag.
Place zucchini, mushrooms, tomatoes and peppers into another large plastic bag.
Combine together soy, sherry, honey, oil and garlic; mix well and pour half the mixture over the chicken and the other half over the vegetables.
Seal bags securely; turn to coat; refrigerate and marinate for 30 minutes or up to 4 hours.
Soak six (12-inch) skewers in water for 20 minutes, (this allows for easy threading).
Preheat broiler or grill.
Drain chicken and vegetables; reserve marinade. Alternately thread chicken, vegetables and onions on skewers.
Place skewers on rack of broiler pan or fire up the grill. Brush with half of the reserved marinade.
Broil or grill 5 to 6 inches from heat for 5 minutes.
Turn kabobs over then brush with remaining marinade then broil another 5 minutes or until chicken is no longer pink. Enjoy!
Nutrition Facts:
Total Calories: 145
Fat: 3g
Carbs: 8g
Protein: 21g